The 26′ Yellowfin is completed! Check out the launch video below!

The new Yellowfin had a great debut at the Miami Boat Show! Thank you to all who came out!
The Yellowfin is now available for Fishing Charters. Book now for the best selection of dates, slots are filling up quickly!
Call or send a text to me at (727) 459-5899 to get booked.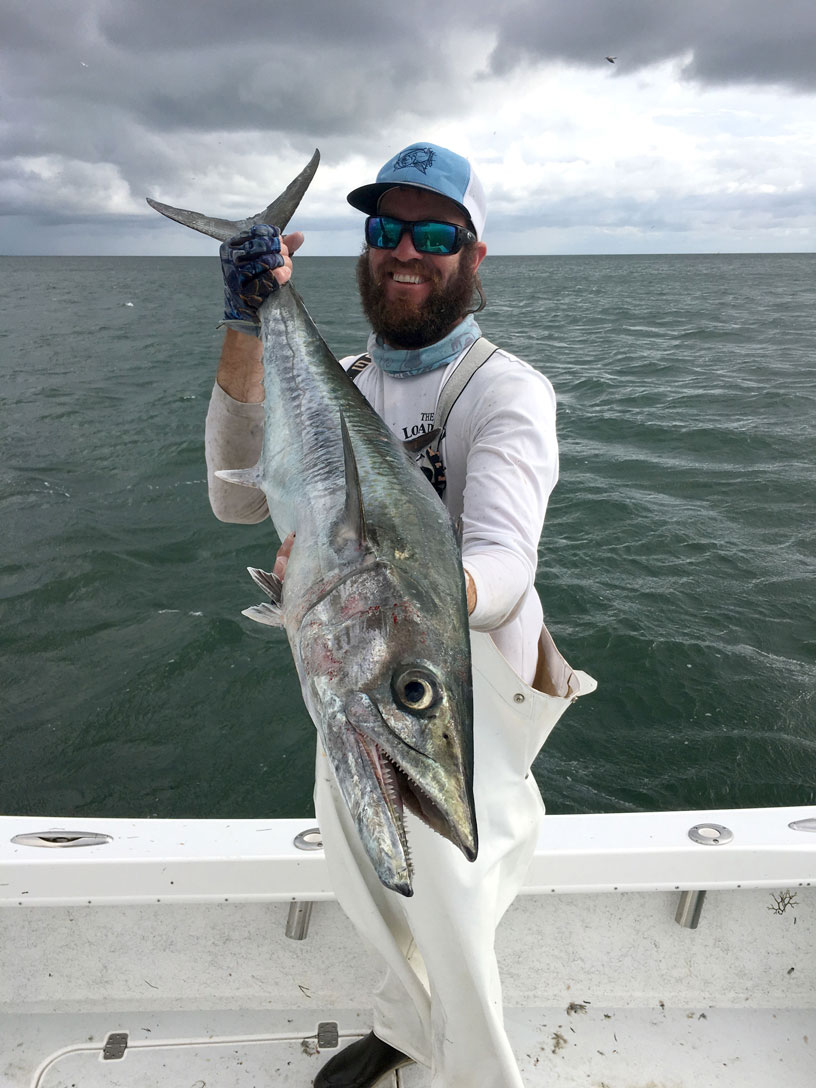 Captain Jason Stock has been fishing his entire life, with 14 years full-time professional experience. His greatest accomplishments are placing in the FLW Red Fish tour, winning local kayak tournaments, and bill fishing tournaments throughout Florida. His photo has also been on the cover of many fishing magazines including 2 Florida Sportsman's, Saltwater Sportsman, Kayak Angler Saltwater Angler, Louisiana Sportsman and Waterline Magazine.
The last few years he has done a variety of different types of fishing including bottom fishing and offshore blue-water trolling from Maine to Key West, then up the west coast of Florida to Louisiana. Jason started working within the family owned local kayak shop (Canoe Country Outfitters) at a young age and found his passion was fishing from a kayak. Over the years he has learned, fished, and traveled with some of the best fisherman and captains around.
For many years, Captain Jason Stock specialized in teaching people to target Snook, Redfish, Trout, and Tarpon while using artificial lures fishing out of a kayak. The kayak enables the ability to sneak up on the fish and get into areas where most boats cannot. The kayak also allows you to slow down and appreciate your surroundings, and get away from the stresses of daily life.
Since, due to demand, Captain Jason Stock has focused solely on charters run from his new 26′ Yellowfin. He offers offshore and inshore trips targeting a wide variety of species, including Permit, Snapper, Grouper, Snook, Redfish, Trout, and Kingfish. Captain Jason Stock also offers bucket list charters for those who want to target a species that they have never had the oppotunity to catch, such as Tarpon, Goliath, Hogfish, Tuna, and Amberjack.
Captain Jason Stock's positive approach and calm demeanor makes him a great guide with a talent for making you comfortable. With a trophy fish on your hook it's never a dull moment. Whether you're an experienced angler or new to fishing Captain Jason Stock can accommodate all skill levels.
"To me there is no greater satisfaction then seeing someone's reaction after catching a prized fish." – Captain Jason Stock
Call or Text Captain Jason Stock @ (727) 459-5899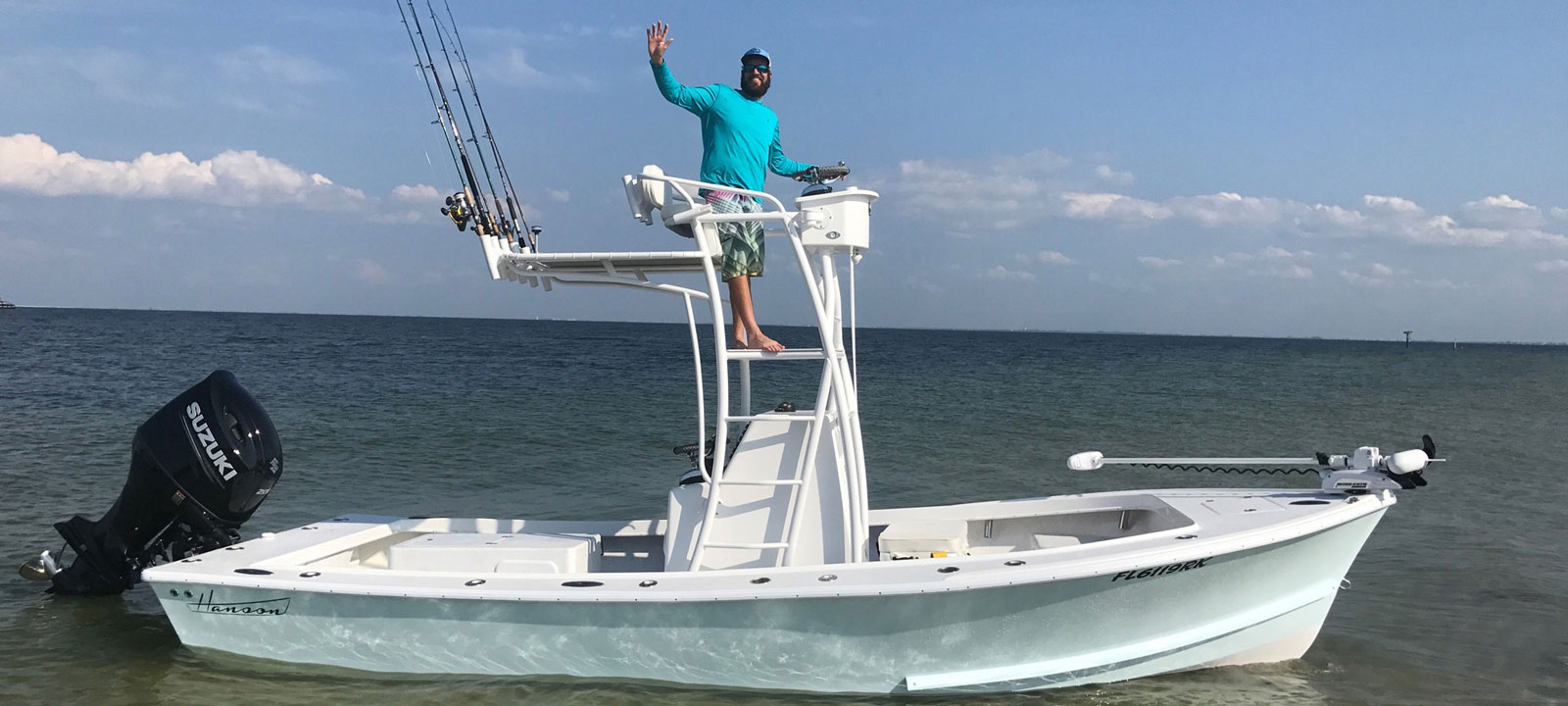 Charter boat is a custom-built 23′ Hanson, with 9.5ft beam, which can accommodate up to 6 people! Great inshore fishing charter boat two big live wells and Minn Kota 110 lb thrust I pilot trolling motor.
Fishing the Bay and Flats for skinny water Snook, Redfish and Trout. Beach fishing and pass fishing for Tarpon and big sharks. Reef Fishing for Hogfish, Snapper, Grouper, Cobia, Kingfish, Goliath Grouper and much more!
Be sure to contact Capt Jason Stock for a variety of different trip options. In Anna Maria Island we can catch fish every day of the year depending on where and what the weather conditions are!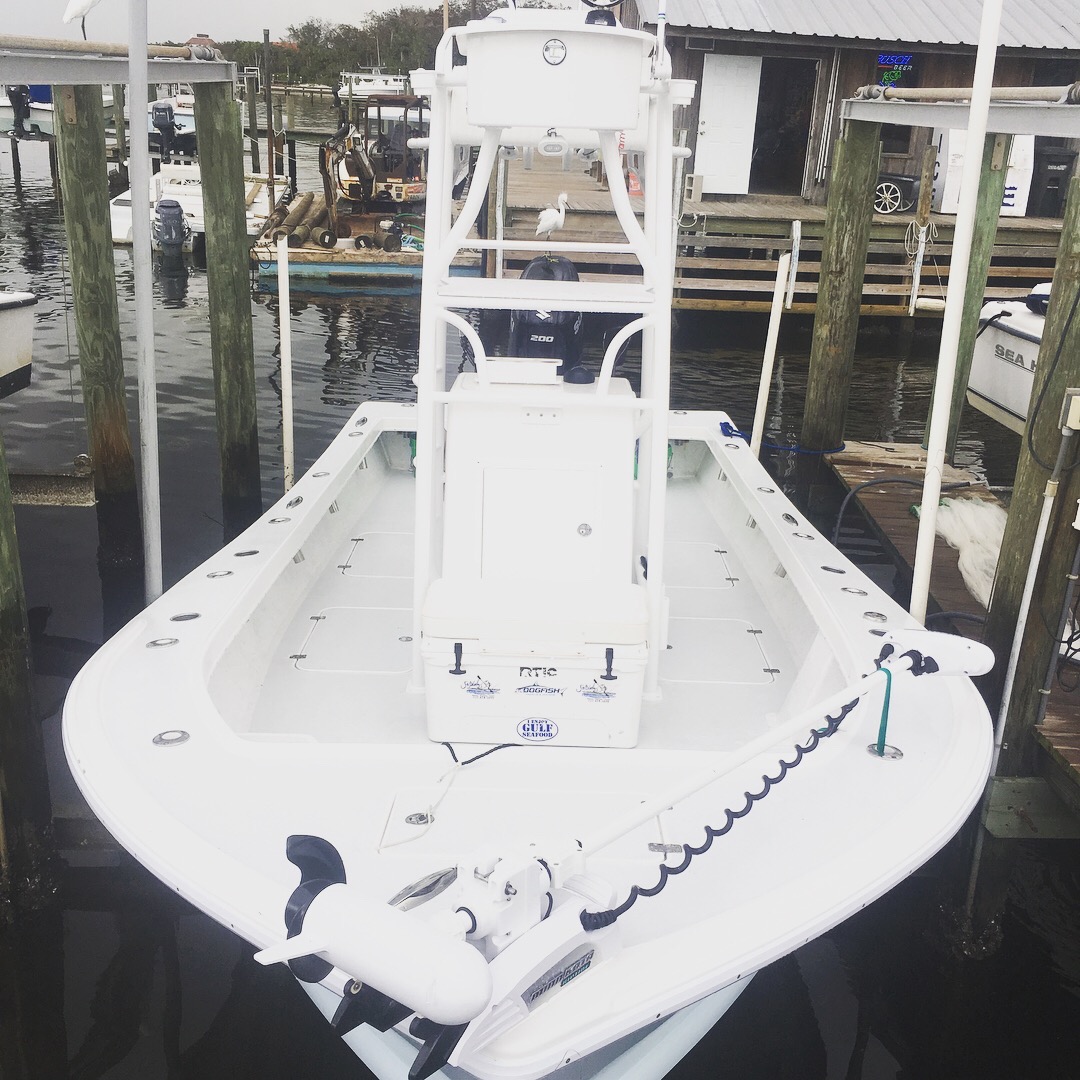 MARINA
Captain Jason Stock launches from a marina based in Bradenton, conveniently located with easy access to a variety of waterways, such as the Gulf of Mexico and Tampa Bay, including the Skyway Bridge. It offers a consistent location for clients to meet and park, plus tables for filleting for trips where catch is brought back, and a great way to wind down after a trip.
Marina Address :
2504 88th Street Ct NW
Bradenton, FL 34209
RATES
26′ Yellowfin Bay Boat Trip :
Inshore Flats and Bay :
Great for all around fishing in the Tampa Bay/Sarasota Area Inshore flats and fishing in the Gulf for Tarpon, also near shore reefs.
Half day : 1 Person : $500  /  Full day : 1 Person : $750
+$50 per Additional Person(s) – limit of 6 clients
Summer Tarpon Trips :
Summer time tarpon trips for larger parties, I will have a first mate on the trip. Trips are available May-August!
Half Day : 1 Person : $600  /  Full Day : 1 Person : $900
+$50 per Additional Person(s) – limit of 6 clients
Near Shore / Reef Fishing Trips (within 30 miles) :
Near shore and Reef fishing trips catching a variety of fish, especially to eat!
Half Day : 1 Person : $600  /  Full Day (8 hours) : 1 Person : $950
+$50 per Additional Person (s) – limit of 6 clients
Extreme Exotics – 12 hour Charter ( 30+ miles) :
This is the ultimate trip. We can take full advantage of the speed and range of the 26′ Yellowfin to cover multiple spots, or get out to spots that are out of range for the standard charter, and target some bucketlist species, such as African Pompano, Wahoo, Large Gag Grouper, and Queen Snapper. Let me know what species you would like to target, and we'll plan the day.*
This type of charter can be a memorable, unique team-building experience for company trips out of the office, and business retreats.
Full Day (12 hours) : 1 Person : $1100 + Fuel Used for Trip
+$50 per Additional Person (s) – limit of 6 clients
*Note that weather can limit the range of any trip as we strive for safe conditions for each charter.
Kayak Fishing Trips :
I'm no longer offering kayak charters, as I will be focusing solely on Yellowfin charters, once the boat is completed.
If you would like to go on a kayak charter, I will be more than happy to refer you to other captains offering the service you are looking for.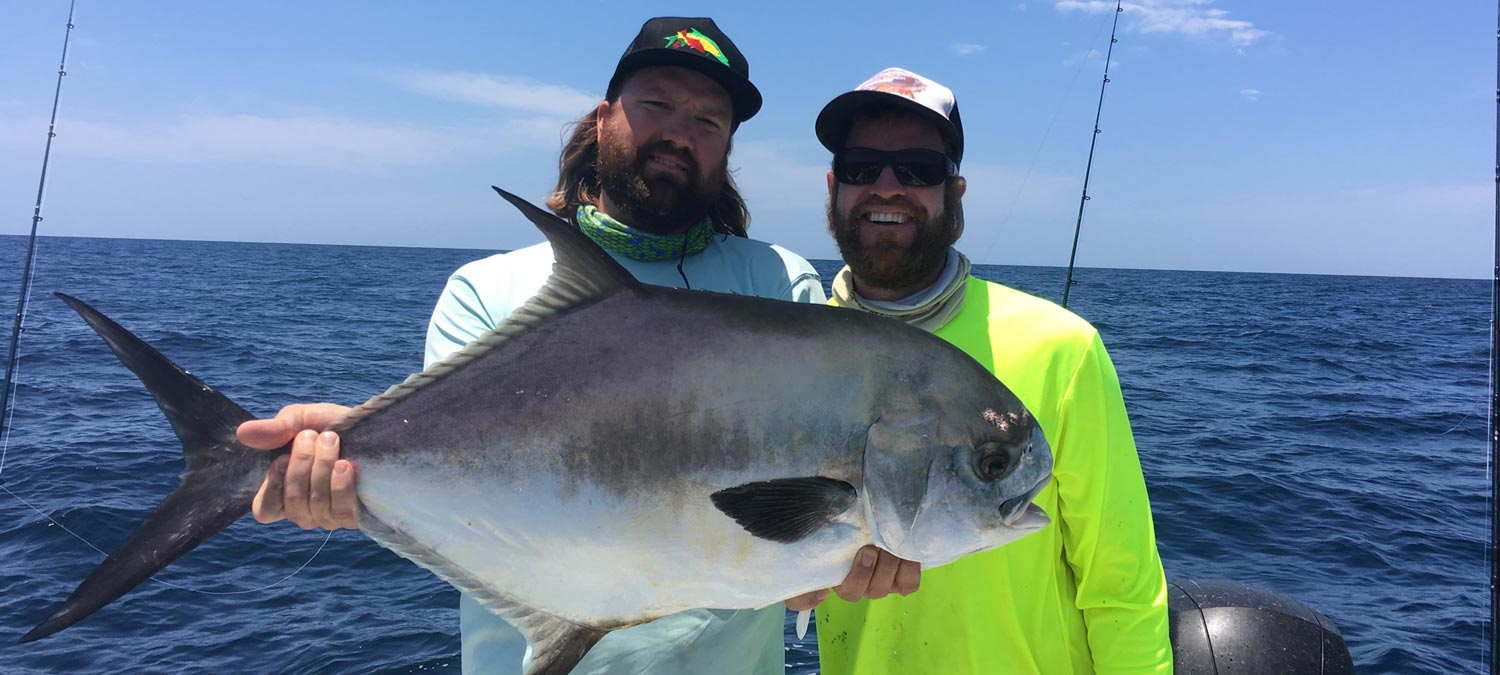 WHY CAPTAIN JASON STOCK
Captain Jason Stock offers a great way to get on the water and pursue a wide variety of fish species, both inshore and offshore. There are many ways to book a fishing charter, whether you are looking for an one-on-one trip, a group trip, a business retreat to release some stress from the day-to-day grind, or planning a fun local activity on your family vacation, Captain Jason Stock can get you on the water and on the fish, with over 14 years full-time professional experience.*
With Captain Jason Stock, you can book Inshore, Nearshore, or Offshore fishing trips. This may partly be dictated by the weather, but also can cater to the species of fish you may wish to pursue on a trip, such as a bucket list trip where you target a species you have always wanted to catch.
Some of many species caught on charters include: Permit, Tarpon, Hogfish, Goliaths, Redfish, Grouper, Amberjack, Kingfish, Snapper, Snook, Tripletail, Sharks, Cobia, and Tuna. For the most immersive trips, or for days you want to target a multitude of species, we suggest booking a full day.
Some additional points which make Captain Jason Stock a great option for your guide needs:
– Trips are a hassle-free experience. With the booking of your charter, all fishing licenses, gear, tackle, ice, and filleting will be covered through the course of the trip. The only thing you need worry about is bringing food/drinks of your choice for the day.
– Captain Jason Stock has a Federal Reef Permit, allowing for trips past 9 miles, expanding options and allowing for some great fishing spots.
– Fishing can be a sustainable activity with the right attentions. Much of the fishing done on trips is catch and release, in line with the limits for the time of year. In addition, Captain Jason Stock participates in a few programs helping to collect data and research Florida's fisheries, such as tagging every Grouper and Permit released, and collecting DNA on every Goliath before release.
– Captain Jason Stock specializes in something called a "Bucket List Trip." This is for anglers who want to catch a particular species which has alluded them, or they have not had the vessel to access yet.
If you are ready to book a trip, give Captain Jason Stock a call at (727) 459-5899, or sent him a text to book a date! Book as early as you can for the best selection of dates.
*When guiding a trip, Captain Jason Stock will do everything in his control to get you on the fish, unfortunately, he has no control over the bite, weather, or tides.
CONTACT
Have we got you hooked? Or are you at least enticed by the bait? Reach out and setup a day on the water with Captain Jason Stock and allow him to guide an exciting day on the water. Whether you grew up on a boat, never set foot in the water, or have a particular fish species you want to cross off your bucket list, let Captain Jason Stock get you out there.
Call or Text at : (727) 459-5899 / Email at : jmsnooky@gmail.com
Marina Address :
Captain Jason Stock
2504 88th Street Ct NW
Bradenton, FL 34209